EMPA NEW ZEALAND AWARDS FOR EXCELLENCE IN COMMUNICATION 2022
The Annual EMPA Awards for Excellence in Emergency Communication have been established to recognise those who have made a significant contribution to emergency communications in New Zealand.
This year the EMPA New Zealand Awards were presented at the EMPA New Zealand 2022 Conference dinner on Monday 17 October 2022.
For emergency communication – READINESS and RESILIENCE
A project or activity that contributes to improved community preparedness and / or resilience.
Fire and Emergency New Zealand
Project: Wildfire Readiness
Description: The risk and impact of wildfire is increasing in New Zealand due to climate change, but also how and where we are living. 
Unfortunately, not enough people are preparing their properties for wildfire because they believe that the threat is not real or urgent. Additionally, they lack knowledge of what they can do to protect their property.
Our solution was to introduce two new Wildfire Readiness campaign phases in Spring and Autumn, in addition to our typical Wildfire Prevention campaign, which runs from December to March.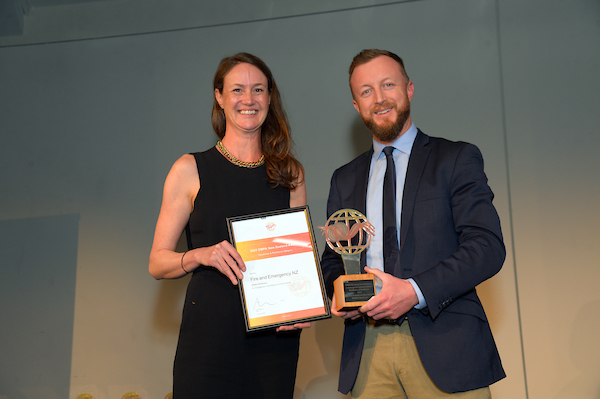 Kelley Toy, Fire and Emergency NZ, accepting the winner
trophy and certificate from Minster Kieran McAnulty
Fire and Emergency New Zealand in collaboration with

FCB New Zealand, FCB Media, TVNZ and NZME
Project: Escape Week
Description:  A 12-week marketing campaign budget transformed into just 12 days aimed at getting more New Zealand households to create Escape Plans that are fit for purpose – "I'll just walk out the front door" is not a plan.
Across Escape Week (and a week of pre-promotion) three layers of communications specifically tackled consumer barriers to encourage escape planning:
"If it happened, I'd just walk out the front door" – More impact: surprising Kiwis with how little time 3-minutes is in a real fire

"Fires don't happen to people like me" – More relevance: demonstrate the probability of house-fire with stories from people just like you.

"Escape planning sounds hard" – Make It easier: chunking to enable the first step.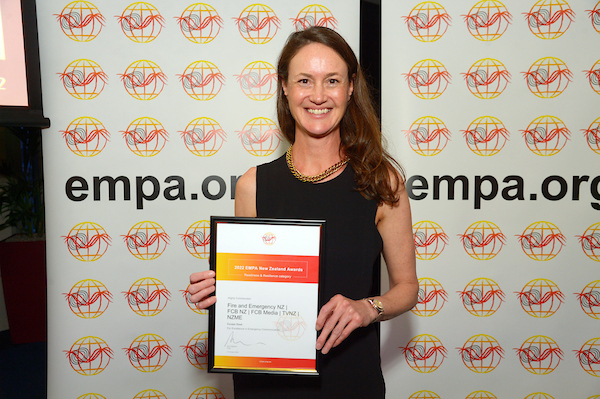 Kelley Toy, Fire and Emergency NZ, accepting the certificate on behalf of Fire and Emergency New Zealand, FCB New Zealand, FCB Media, TVNZ, and NZME
For emergency communication – RECOVERY
Supporting the recovery of a community impacted by an emergency.
Marlborough District Council
Project: Marlborough's Road to Recovery
Description: The Marlborough region was hit by a severe storm on Saturday 17 July 2021. Amidst a backdrop of COVID-19 restrictions and involving geographically disperse communities, Marlborough's road to recovery has presented some unique communications challenges for the Marlborough District Council (MDC) and has been a journey of continuous improvement – it has not always been perfect and is still ongoing. The lessons learned from this event will be hugely valuable for the future.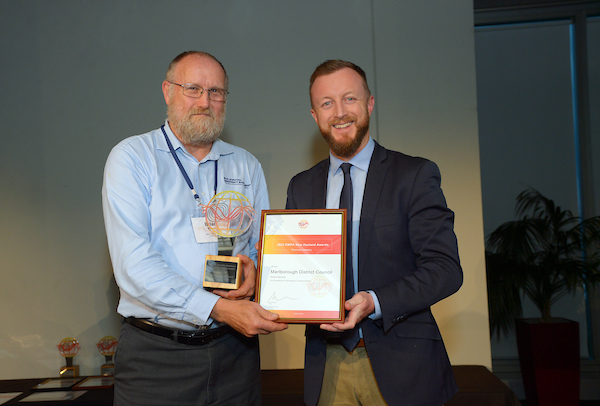 Brian Paton, Marlborough Emergency Management, accepting the winner trophy and certificate from Minster Kieran McAnulty on behalf of Marlborough District Council
Massey University in collaboration with

Victoria University, University of Melbourne and Australian Red Cross
Project: Recovery Capitals (ReCap) Resources
Description: While research from past disasters can guide good decision-making and recovery actions, findings are often not readily accessible to people supporting recovery. The ReCap project produced accessible, user-friendly, engaging and evidence-based resources that were designed in both te reo Māori and te reo Pākehā to effectively support the use of key recovery principles in practice for an all of Aotearoa New Zealand approach. This involved artwork designed by a Māori artist that drew on pūrākau and mātauranga Māori to enhance the messages.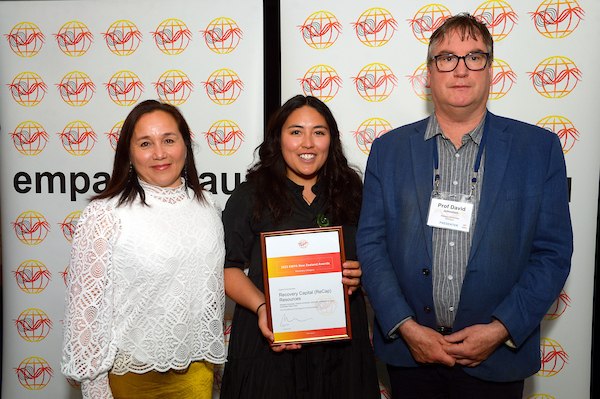 (from left) Dr Denise Blake, Victoria University, Emily Campbell, Massey University, and Prof David Johnston, Massey University, accepting the certificate on behalf of the collective
For published RESEARCH that advances emergency communication by
Improving community preparedness and/or resilience
Increasing the effectiveness of communication during an emergency response;
Enabling agencies to better support communities recovering from an adverse event.
Scion
Project: Adapting and mitigating wildfire risk due to climate change: extending knowledge and best practice
Description: From 2016-2021, the Scion Rural Fire Research Group led a large international collaborative programme: Preparing New Zealand for Extreme Fire. This programme provided a stimulus for a number of related projects under Scion's Improving the communication of weather and wildfire information theme.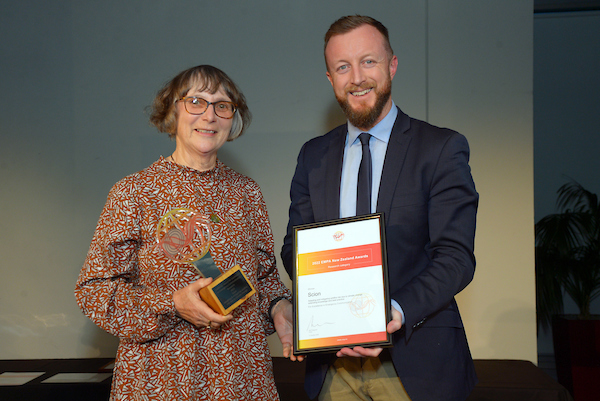 Lisa Langer, Scion, accepting the winner trophy and certificate from Minister Kieran McAnulty
Dr Sara McBride & Dr Jessica Ball, US Geological Survey
Project: #TheSmoreYouKnow and #emergencycute: A conceptual model on the use of humor by science agencies during crisis to create connection, empathy, and compassion
Description: The first fundamental question is: should agencies try to be funny during times of crisis? What are the benefits and what are the risks? With the rise of the use of social media by agencies during times of crisis, there was no guidance on how, if, when, why, or about what, agencies could use humour.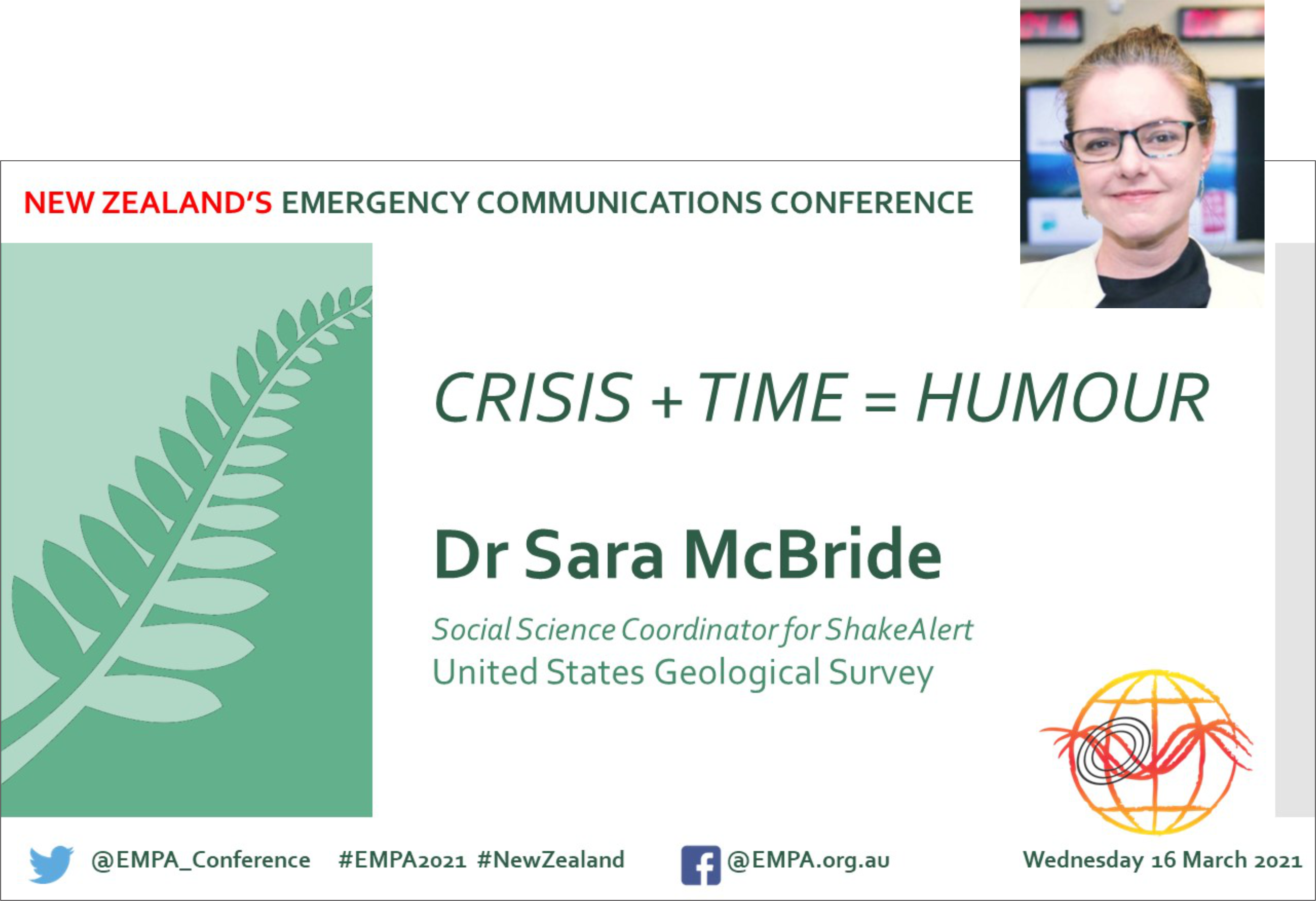 Dr Sara McBride (pictured) though unable to accept the award in person,
presented on this project at the EMPA 2021 NZ Conference.  
For emergency communication – RESPONSE
Communicating effectively during an emergency response.
Palmerston North City Council
Project: WATER WOES – How we rallied our community to stop Palmy running out of water
Description: Two-thirds of Palmy's water is supplied via a single pipe, and in September 2020 it suffered an unexpected and catastrophic burst early one Friday morning. Urgent repairs were taking longer than expected and at 4pm it was determined that without a significant drop in water use, tens of thousands of our residents could be without water in fewer than 24 hours. The decision was made to immediately enforce essential water use only. 
A water communications strategy paired with an emergency communications response resulted in the city saving hundreds of millions of litres of water and avoiding a crisis.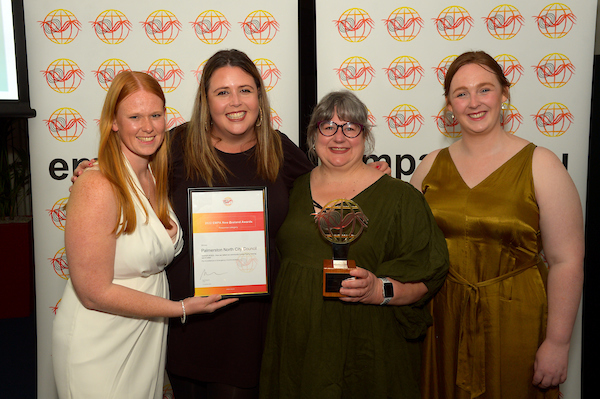 (from left) Donna Baker, Olivia Wix, Lisa Wilde and Jessica Ballinger, Palmerston North City Council, with the winner trophy and certificate.
National Emergency Management Agency
Project: Three tsunami in one day: Communicating life safety information to Aotearoa during the March 5 tsunami response
Description:  In the wee hours of 5 March 2021, three tsunamis hit New Zealand's shores, resulting in what is believed to be the largest mass evacuation in New Zealand's history.
Despite the extraordinary series of events, the response across the entire emergency management system was methodical and well-coordinated. The event put to the sternest test public information management arrangements that had been redesigned, finely tuned and assiduously practised for years since the Kaikoura-Hurunui earthquake and tsunami event of 2016. The result was an unequivocal success. 
The response showed how collaboration and well-integrated response planning is at the heart a successful response.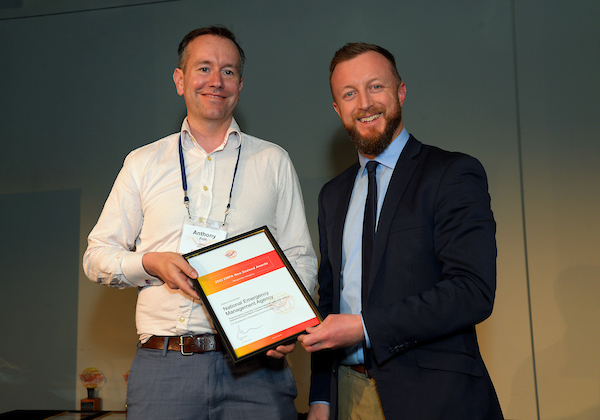 Anthony Frith, National Emergency Management Agency, accepting the certificate from Minster Kieran McAnulty
In-depth and balanced coverage of a topic that increases public understanding of a hazard or an emergency response.
Comprehensive and accurate reporting before or during an emergency response, contributing to public safety
Fire and Emergency New Zealand
Project: Fire gets real, fast! Seven Sharp Live Fire Burn
Description: Following a series of tragic fires, Fire and Emergency was looking to raise public awareness about the speed of fire, and importance of having working smoke alarms and an escape plan. Partnering with Seven Sharp, they developed a dramatic and compelling media opportunity – a televised house fire burn.
They also built community engagement, bringing school groups through the house before the burn and engaging neighbours in the process. In addition,  photography from the burn was used in subsequent marketing campaigns.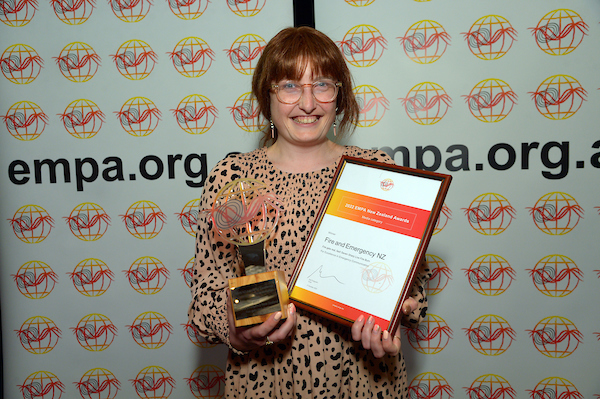 Lisa Chaplin, Fire and Emergency NZ, accepting the certificate on behalf of Fire and Emergency New Zealand