EMPA NEW ZEALAND AWARDS FOR EXCELLENCE IN COMMUNICATION
The Annual EMPA Awards for Excellence in Emergency Communication have been established to recognise those who have made a significant contribution to emergency communications in New Zealand.
This year the EMPA New Zealand Awards were presented at the EMPA New Zealand 2023 Conference dinner on Thursday 19 October 2023.
For emergency communication – READINESS and RESILIENCE
A project or activity that contributes to improved community preparedness and / or resilience.
WREMO | Te Whatu Ora | Wellington Water | Massey University
Emergency Sanitation Plan and Campaign – Get Poopared!
A project that sought to prepare its community for disruptions to sewage systems in the event of earthquake.
The campaign used humour in the form of its mascot, 'Poonelope', to lighten the awkwardness of the topic and deliver its key messages: the vulnerability of the sewage system and awareness of the options for making an emergency toilet.
The campaign also provided helpful information for people with access needs.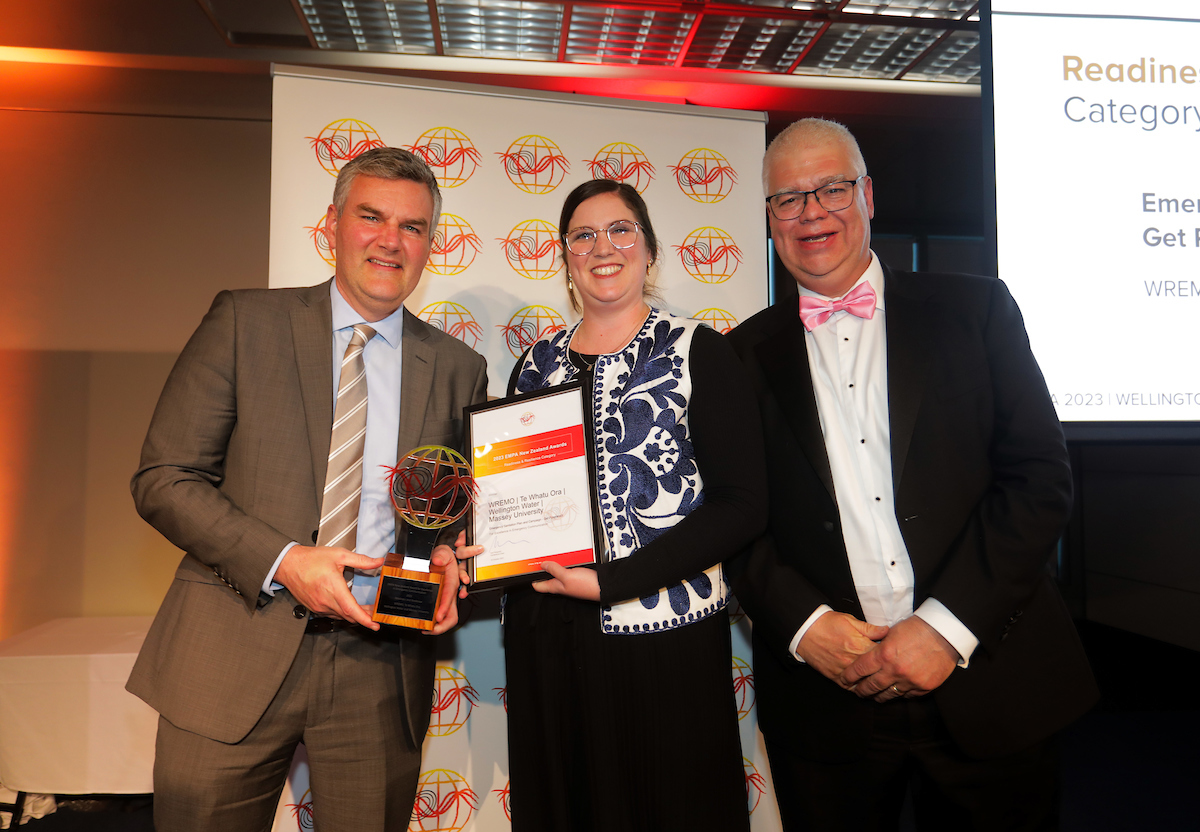 Karl Ferguson, EMPA NZ Conference Chair, with Mischa Hill, WREMO, and Sam Rossiter-Stead.
Waimakariri District Council
Emergency Preparedness – the Waimak Way
A project that sought to prepare its community for civil defence emergencies.
Recognising that the issue with its existing messaging had been that the community wasn't recognising itself in its usual local messaging, this district council prepared a video that incorporated visual narratives, scenery and characters that were familiar to the community.  The videos provided messaging on how to prepare for extreme weather events in a way that resonated more strongly with the community.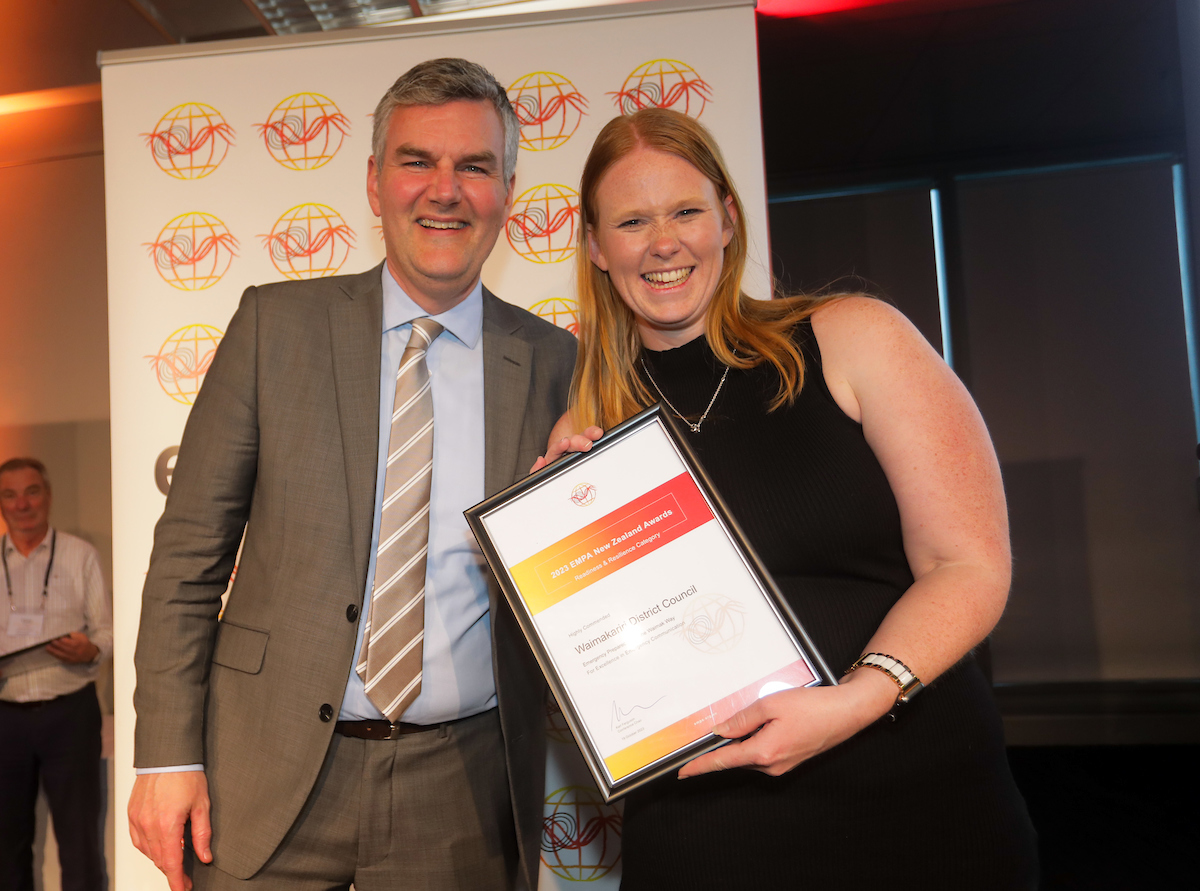 Sara Meredith, Waimakarir District Council, with Karl Ferguson, EMPA NZ Conference Chair 
For emergency communication – RECOVERY
Supporting the recovery of a community impacted by an emergency.
Northland Civil Defence Emergency Management
Cyclone Gabriellle 2023 Regional Recovery Plan for Northland | Te Mahere Whakaoranga mō Te Tai Tokerau
A recovery plan provided following Cyclone Gabrielle.
The plan has a community-led vision that was prepared using an approach called "collective narrative practice".  The approach enabled members of the community to contribute stories and experiences about the emergency and their hopes for the future.  This formed a substantial portion of the document and guided the vision.
The plan was also written to be accessible and appealing to diverse communities.
Mark Trudinger and Zachary Woods from Nothland CDEM
For emergency communication – RESPONSE
Communicating effectively during an emergency response.
Unison Communications and Marketing Team
The Power of Communications: a response to mass outages following Cyclone Gabrielle
A project that provided essential information to the community relating to power outage before, during and after Cyclone Gabrielle.
Outages affected over 75,000 properties.
The strategy aimed to provide timely and accurate information to key stakeholders, ensure public safety and instil confidence in the provider's ability to restore power quickly and safely.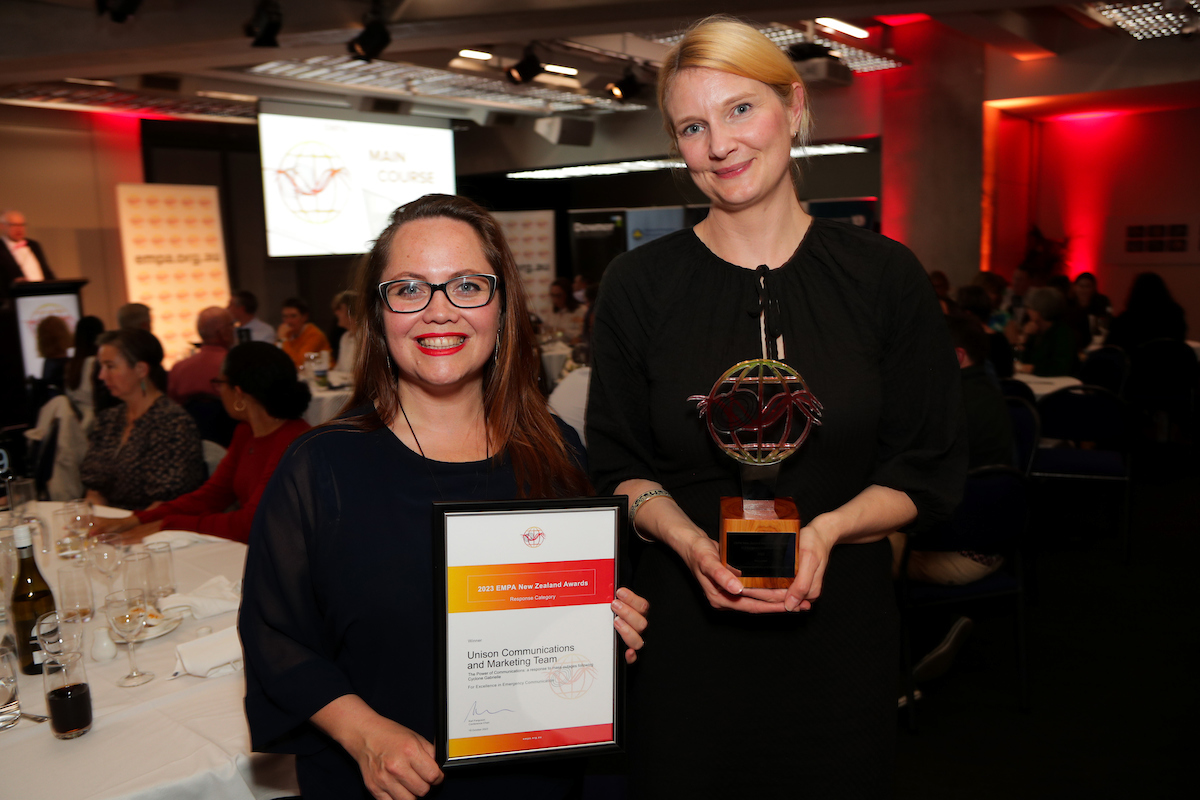 Kim Parker (left) and Ester DeFresne from Unison Networks Ltd. 
Waka Kotahi NZ Transport Agency Communication & Engagement Team (Northland, Waikato Bay of Plenty and the East Coast)
State Highway Response to Multiple Severe Weather Events
A series of response programs that responded to the disruptions caused by multiple severe weather events in 2023. These included Cyclone Hale and Cyclone Gabrielle.
The response focussed on providing critical up-to-date information on the status of the highway network and establishing trust in its channels and information.  The content aimed to engage its audience by showing the people working to reconnect communities and whānau.
A strategy of continuous and informative communication to the public was key to its success.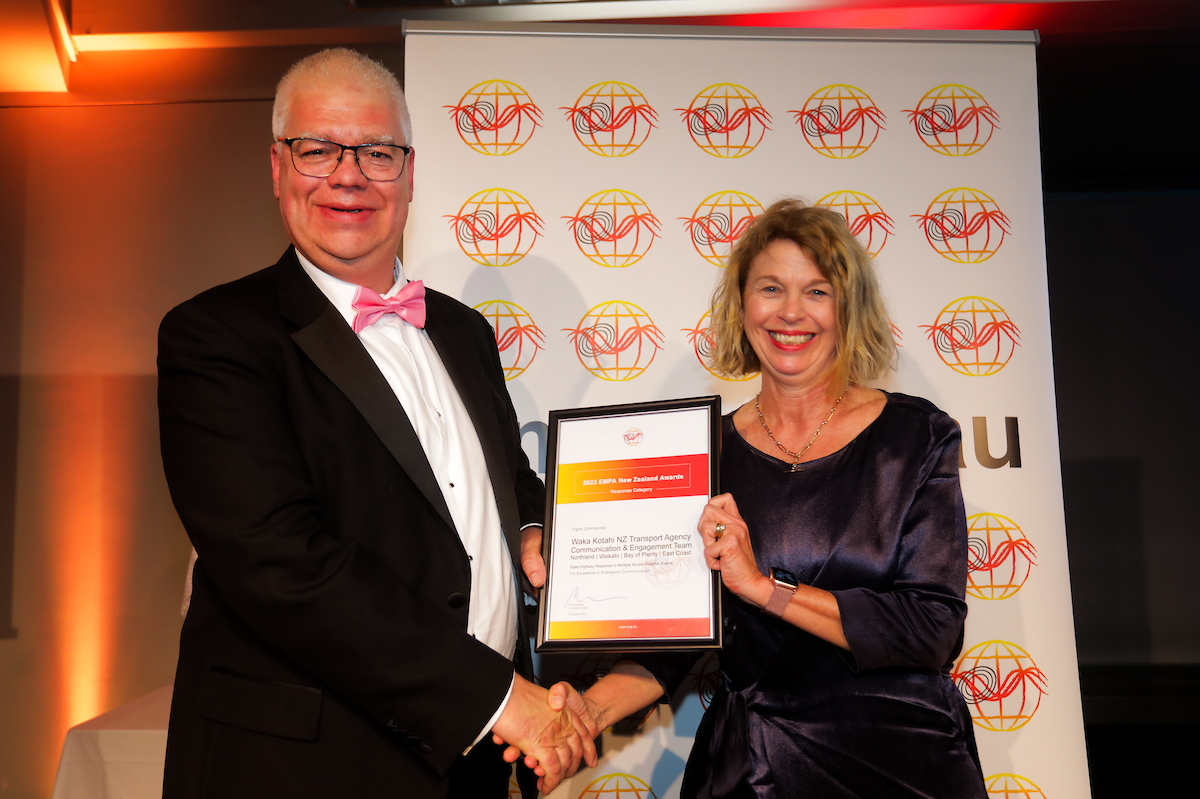 Sam Rossiter-Stead presenting Karen Jones, Waka Kotahi | NZ Transport Agency, with the Highly Commended certificate.
Bay of Plenty CDEM Group
BOP CDEM Cyclone Gabrielle Response
An organisation who aimed to provide the primary authoritative source of emergency communications for Bay of Plenty throughout Cyclone Gabrielle.
The response aimed to address the community's psychosocial needs as well as providing clear, accurate, relevant and timely public information.  The response also aimed to avoid the types of criticisms that had been made in relation to communications undertaken in the early hours of the Auckland Anniversary weekend floods.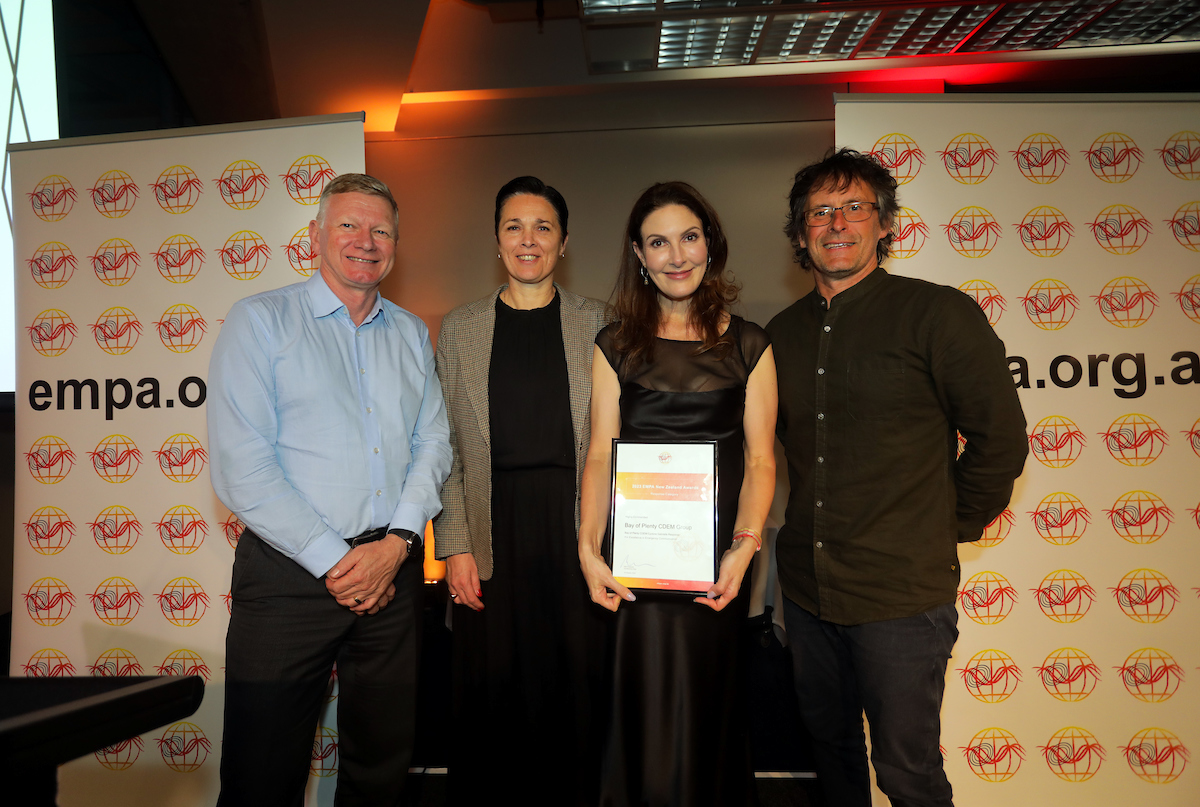 (from left) Clinton Naude, BOP Emergency Management, Paula Naude, Tauranga City Council, Lisa Glass, BOP Regional Council, Mark Crowe, BOP Regional Council. 
For emergency communication - COMMUNITY ENGAGEMENT
Collaborating effectively with diverse and varied communities.
Promoting collaborative communication methods and engagement with the aim that communities will eventually drive their own programs.
Marlborough District Council Project Team | Stantec | Publik
Marlborough Sounds Future Access Study
A community engagement programme that aims to provide a safe and resilient road network for residents, homeowners and businesses in storm affected areas. The programme also aims to provide long-term certainty for those affected by weather events.
This district council experienced two significant weather events in 2021 and 2022 which caused extensive damage to the region's road network. These events inspired the programme.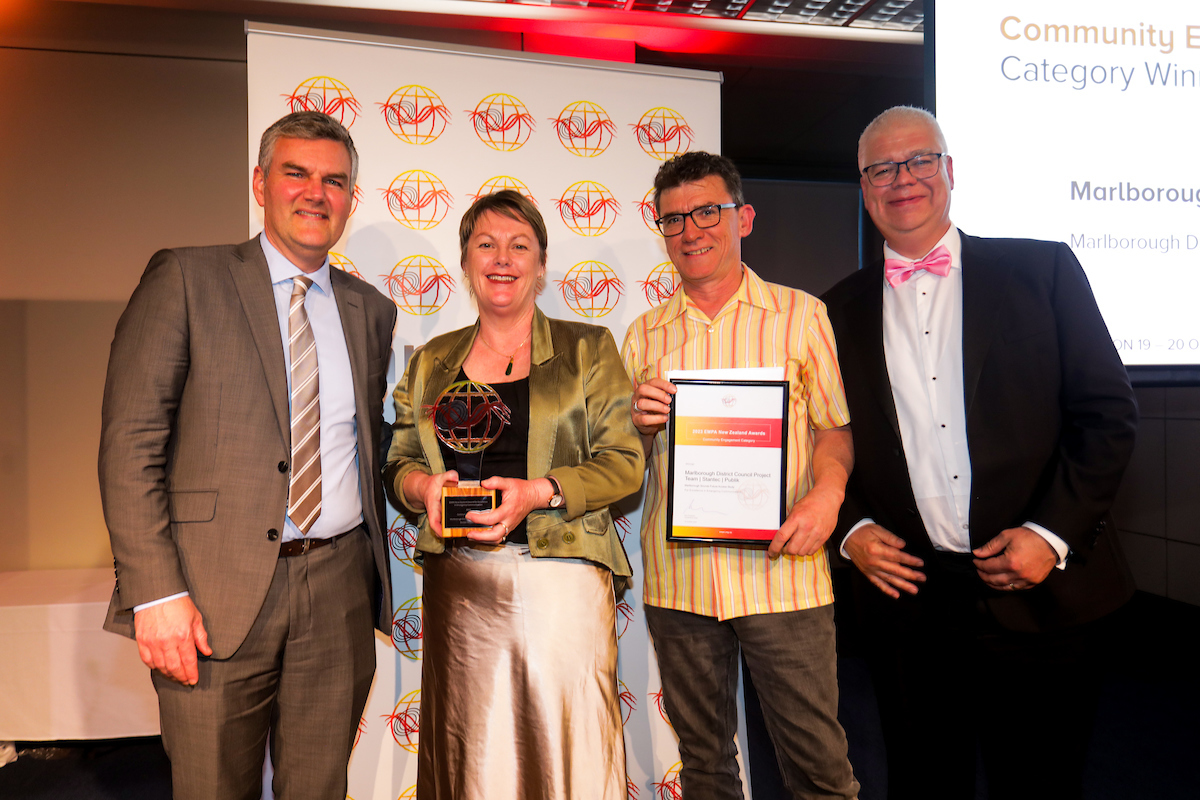 Karl Ferguson, EMPA NZ Conference Chair, standing with Mayor Nadine Taylor and Glyn Walters from Marlborough District Council, and Sam Rossiter-Stead.