NEW ZEALAND's EMERGENCY COMMUNICATIONS CONFERENCE
Communicating with residents, stakeholders and lifeline organisations is critical to the resilience and safety of communities. Recent events have highlighted the need for effective disaster communications that can influence individuals and organisations to make the decisions they need to, quickly and comprehensively.
Come along to EMPA 2023 in Wellington from Thursday 19 – Friday 20 October 2023 and find out more. 
Registration includes:
Two full days of general sessions

Networking & Awards conference dinner

Exclusive access to all conference proceedings

Daily catering* (morning tea, lunch, afternoon tea)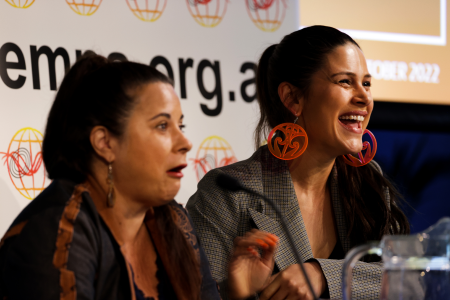 Special Group and Student rates available!
Rooms will be scarce in Wellington during October due to multiple public events. We have reserved a number of rooms at the Copthorne oriental bay for EMPA delegates, which you can book as you register for the conference. If you are organising a group of delegates who need accommodation, please contact us for assistance.
If you have any questions regarding your registration or would like to be added to the waitlist, please contact conferences@empa.org.au.
Extra tickets can be purchased to the following:
Tickets can be purchased to the following:
Earlybird rate available until Friday 18 August 2023
Extra tickets can be purchased to the following:
Tickets can be purchased to the following:
3+ Registration
Extra tickets can be purchased to the following:
Student Registration
Tickets can be purchased to the following:
Earlybird Registration
Earlybird rate available until Friday 18 August 2023
3+ Registration
Extra tickets can be purchased to the following:
Student Registration
Tickets can be purchased to the following:
*If your dietary preference cannot be catered for by the venue, additional fees will be charged to cover these costs. Please see list below.
How to register
High Profile Events (HPE) has recently updated their registration software to the Currinda platform. All attendees will be required to hold a Currinda profile. 
To complete your registration, please select the above button titled 'REGISTER NOW'. This will take you to the EMPA New Zealand Currinda log in page.
It is likely some of you will have created a Currinda profile in the past. If you know your original email and password, please log in using these details. Otherwise, create a new Currinda profile by selecting 'Begin here' and fill in the personal details page. If you have simply forgotten your Currinda log in details, the Currinda database will recognise your profile by matching fields such as email address, full name, organisation etc. If a profile is recognised, please confirm if these details are yours. In the case that it is correct, please update your password.
Once you have successfully logged in, please follow the registration prompts. Upon completion, a confirmation email will be sent to you. If you do not receive this email, check your profile email address was entered correctly and that your registration is complete. If you require assistance, please click here to contact HPE. Do not re-register.
Your Currinda profile (email and password) can be used to access your registration at any time to make any necessary changes such as registering add-on's, making a payment, downloading a current invoice or your certificate of attendance.
If you wish to make changes to your registration type, such as changing from a single day registration to a full, please email the details to the secretariat. Do not re-register.
Group registration
If you are a group manager that is planning to arrange registrations on behalf of delegates within your organisation and/or attend the conference yourself, please click here to view registration instructions.
Payment
Bank deposit or personal cheque accepted.
MasterCard & Visa are not available online at time of registration. To pay via credit card, confirm your registration via 'Invoice' and contact High Profile Events for processing. A 2% surcharge applies to all credit/debit card transactions.
Credit cards can be processed in AUD at rate of conversion current at time of transaction; the amount processed may differ from your bank statement as the conversion rate used by your credit card is subject to change.
Please contact the secretariat via phone or email to provide your credit card details.
Registration payments: If paying by direct deposit, payment must be made or remittance received within 30 days from date of invoice. Registration and payment must be received prior to the conference commencing.
Accommodation payments: Payment for all accommodation must be made in full 45 days before date of event. If payment is not received in this time, your room booking will be cancelled. 
All rates quoted are in New Zealand dollars and include 15% GST.
All online registrations are checked by the secretariat. If there is any query, they will contact you.
Dietary Requirements
The venue will make every effort to cater for guests with special dietary requirements, i.e. vegetarian, vegan, gluten and/or lactose free or allergies** at no extra charge. Any other additional special meal requests may incur a surcharge. 
**Important notice regarding food allergies – While the venue will endeavour to accommodate requests for special meals for customers who have food allergies or intolerances, they cannot completely guarantee allergy-free meals due to the potential of trace allergens in the working environment and supplied ingredients.
Cancellations & refunds
If you have proceeded to register and then changed your mind, please contact the Conference Secretariat within 24 hours of registering to avoid any cancellation fees.
Registration cancellations received 30 days prior to the event will be refunded, minus a $150 cancellation fee. Cancellations received less than 30 days prior to the event will not be eligible for a refund. Substitute delegates may be nominated at any time.
Refunds for registration add-ons (workshops, dinners etc) will be given at the discretion of the Conference Secretariat. Cancellation of hotel bookings must be made directly with the hotel.
All cancellations and substitutions must be made in writing by the registered person to the Conference Secretariat.
Cancellations of Accommodation are subject to the policies of the relevant provider. If you wish to cancel or amend your booking, please contact the Secretariat for more information. 
Insurance
Registration fees do not include insurance of any kind. It is strongly recommended that you consider your individual travel and health insurance requirements prior to making travel arrangements.
Photography
There may be photographs taken throughout the conference and at the social events. These may be used for promotional activities, including the conference website, social media etc. If you do not want your photograph taken, or used, please notify the photographer onsite at your earliest convenience.
Disclaimer
EMPA and the conference secretariat reserve the right to amend any part of the conference program or event should it be necessary. No liability will be accepted for damages of any nature sustained by participants, or their accompanying persons, or loss or damage to their personal property as a result of the conference or related event.